SOPHISTICATED,
NOT STUFFY.
Enjoy wild game and seafood in Houston's
iconic lodge style fine dining restaurant.
Lunch, Dinner and Sunday Brunch.
WE'VE GOT GAME.
Our 100+ Year old Log Cabin is a comfortable yet refined setting for succulent wild game including Elk, Bison, Venison, Pheasant, Antelope, Duck and Quail.
We don't stop at game. Seafood and steaks play a big part in our menu presentation. Highlights include, Cowboy Beef Ribeye, Cold Water Lobster, Jumbo Lump Crab, Snapper, Trout, Lobster and of course, Gulf Shrimp.
Two onsite kitchen gardens and a small citrus orchard help complete our menu which is inspired by our seasonal harvest, local ranches and growers.
PRIVATE EVENTS
Our Elegant Log Cabin has four private rooms for groups of 8 to 80. Or think big! Consider the entire Lodge for your group of 100 or more.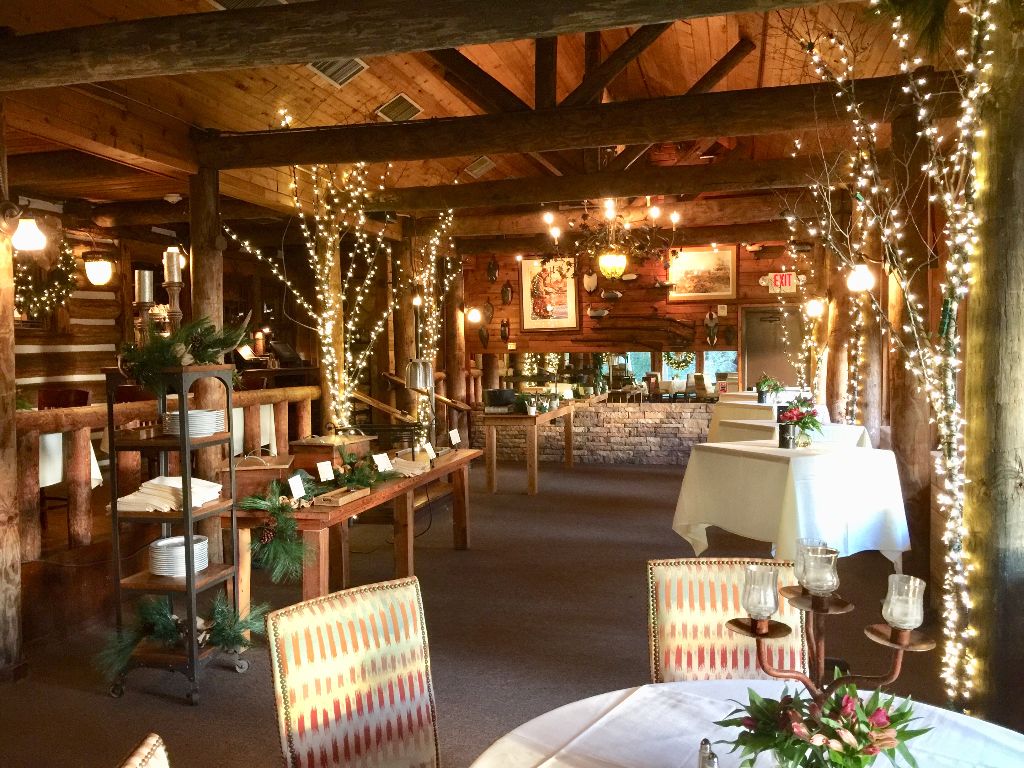 Houstonians have been creating memories at The Lodge for over 40 years. Our veteran cooks and team are ready to help you. Service matters to us and we know how important the details are to a successful celebration.
We can accommodate weddings and parties with a guest list of 20-200. Create a menu that matches your taste. Three course pre-set banquet menus are $46, $54 or $65 per person excluding drinks, tax and service. Buffet menus are quoted upon request
Champagne, crafted cocktails, local beer, vintage wines and even alcohol-free drinks. We know how to match the perfect beverages to your event.
DONNETTE HANSEN
OWNER
Restaurateur, fly fisher, bee keeper in training, bird dog lover, gardener and inn keeper. Chances are, I'll answer the phone when you call, I like that and I like to create menus for parties. Let me help you with a menu your guests will remember forever.
MARK SCHMIDT
CHEF
Food and wine lover, vintage audio & vinyl collector, 1960 Norton rider, whiskey taster and cookbook collector. Mark is a doggy daddy to a French Bulldog and an English Bulldog, and Liverpool is his team.
Tim Neely,
General Manager
Tim has been a critical part of Rainbow Lodge for 30+ years. Our "quarterback"! He is also lover of good wine, great whiskey, and has a passion for woodworking. You will find many of his handcrafted tables around the Lodge.
Miguel Hernandez,
Manager
For 22 years, Miguel has been part of our Lodge family. Starting in the kitchen as one of our favorite cooks, we have watched Miguel grow into a true team leader. His smiling face covers our dining room all week. Planning a proposal? He's your guy.
Daniel Calderon,
Manager
Daniel is an alumni of the Conrad Hilton College of Hotel and Restaurant Management who has been in the restaurant industry since he was a teenager. He's an avid outdoorsman who loves to fly fish. Ask him about his favorite jazz musician.
Marc Borel,
Beverage Director
Marc has over 20 years of experience in the hospitality industry and joined our team in 2015. Not sure what wine is a fit for your celebration? He's your guy! Stop him in the dining room; he'd love to share his latest wine and spirits travel adventure.