$45 per person, includes a $7 donation to the Houston Food Bank (does not include, tax, gratuity or beverages). Sommelier Selected Wine Pairings available for an additional $25, $38, $79 or $135.
The Lodge's Smoked Duck Gumbo
Andouille Sausage and Wild Rice Pilaf
Lump Crab and Black-Eyed Pea Gordita
Shaved Cabbage and Tomatillo Salsa ⓖ
Fried Green Tomato Stacker
Herbed Goat Cheese and Marinated Heirloom Tomatoes ⓥ
Baby Gem Lettuce Wedge Salad
Creamy Avocado-Buttermilk Dressing, Sweet Corn and Peach Pico de Gallo, Crispy Bacon ⓖ
HRW Dinner Entrées
choose one
Pan Seared Gulf Redfish
Field Pea Succotash with Crispy Oysters and Tabasco Butter Sauce
Slow Cooked Duck Leg
Lentil and Okra Stew, Ham Hock, Braised Greens ⓖ
Coffee Rubbed Venison Medallion
Grilled Summer Squash, Sweet Potato Purée and Texas Peach Barbecue Sauce ⓖ
Coconut Curried Bok Choy and Oyster Mushrooms
Fried Eggplant and Jasmine Rice Pilaf ⓥ
Warm Croissant Bread Pudding
Whiskey Sauce, Vanilla Ice Cream
Lemon Icebox Pie
Gluten-Free Graham Cracker Crust, Blueberry Compote, Cardamom Honey ⓖ
Chocolate-Peach Mousse Tart
Stone Fruit Compote, Vanilla Cream
Chef Added Extras and Sides
Buttered Lump Crabmeat
15
Butter Poached Lobster Tail
30
Chili Roasted Brussels Sprouts
6
Roasted Garlic Sautéed Kale
5
These Sommelier Selected Wine Pairings were specifically chosen to pair perfectly with our Houston Restaurant Weeks Dinner Menu selections.
$135 HRW Wine Pairing
more than a $200 value
To Start
Dom Pérignon Champagne 2008
Silver Oak - Alexander Valley Cabernet Sauvignon 2015
With Entrée
Cakebread - Napa Chardonnay 2017 *or*
Silver Oak - Alexander Valley Cabernet Sauvignon 2015
Rémy Martin, Louis XIII Cognac (½oz)
With Dessert
Maynard's 1934 Colheita Port *or*
Rémy Martin, Louis XIII Cognac (½oz)
$79 HRW Wine Pairing
a $90 value
To Start
Krug Grande Cuvée Champagne
Silverado, Geo - Napa Cabernet Sauvignon 2014 *or* Ducru Beaucaillou, Le Petit Caillou Saint-Julien Bordeaux 2010
With Entrée
Brewer-Clifton - Santa Barbara Chardonnay 2016 *or* Christophe Patrice Premiere Cru Chablis Chardonnay 2017 *or*
Silverado, Geo - Napa Cabernet Sauvignon 2014 *or* Ducru Beaucaillou, Le Petit Caillou Saint-Julien Bordeaux 2010
Warre's 20 Year Tawny Port
With Dessert
Far Niente Dolce - Napa Dessert Wine *or*
Warre's 20 Year Tawny Port
$38 HRW Wine Pairing
a $45 value
To Start
Ridgeview, Bloomsbury Brut
Tolaini, Valdisanti - Super Tuscan, Cabernet Sauvignon / Sangiovese 2014
With Entrée
Mulderbosch - South African Chenin Blanc 2016 *or*
Tolaini, Valdisanti - Super Tuscan, Cabernet Sauvignon / Sangiovese 2014
With Dessert
Royal Tokaji 2013
To Start
Rose d'Or Sparkling Brut Rosé
Marotti Campi, Rubio Italian Lacrima
With Entrée
McPherson, Les Copains - Texas Viognier / Roussanne *or*
Marotti Campi, Rubio Italian Lacrima
With Dessert
Jorge Ordonez No 2 - Spanish Moscatel
$20 per person, includes a $3 donation to the Houston Food Bank (does not include, tax, gratuity or beverages)
The Lodge's Smoked Duck Gumbo
Andouille Sausage and Wild Rice Pilaf
Fried Green Tomato Stacker
Herbed Goat Cheese and Marinated Heirloom Tomatoes ⓥ
Baby Gem Lettuce Wedge Salad
Creamy Avocado-Buttermilk Dressing, Sweet Corn and Peach Pico de Gallo, Crispy Bacon ⓖ
HRW Lunch Entrées
choose one
Pan Seared Gulf Redfish
Field Pea Succotash with Crispy Oysters and Tabasco Butter Sauce
Beer Braised Wild Boar Bratwurst
Smoky Mustard Potato Salad, Turmeric Slaw, Poblano and Onion Gravy
Two Texas Fried Quail Bites
Creamy Cheddar Organic Grits and Bourbon Bacon Gravy
Coconut Curried Bok Choy and Oyster Mushrooms
Fried Eggplant and Jasmine Rice Pilaf ⓥ
Chef Added Extras and Sides
Buttered Lump Crabmeat
15
Butter Poached Lobster Tail
30
Roasted Garlic Sautéed Kale
5
$20 per person, includes a $3 donation to the Houston Food Bank (does not include, tax, gratuity or beverages)
The Lodge's Smoked Duck Gumbo
Andouille Sausage and Wild Rice Pilaf
Fried Green Tomato Stacker
Herbed Goat Cheese and Marinated Heirloom Tomatoes ⓥ
Baby Gem Lettuce Wedge Salad
Creamy Avocado-Buttermilk Dressing, Sweet Corn and Peach Pico de Gallo, Crispy Bacon ⓖ
Pesto Grilled Gulf Shrimp Bruschetta
Lemon Basil Caper Butter
HRW Brunch Entrées
choose one
Pan Seared Gulf Redfish
Field Pea Succotash with Crispy Oysters and Tabasco Butter Sauce
Field Breakfast
Two Fried Eggs with Ranchero Sauce, Venison and Pistachio Sausage Patty, Rösti Potatoes with Cheddar, Texas Toast, Charred Jalapeño
Braised Buffalo Short Rib Benedict
Poached Eggs, Arugula, Brioche Toast, Jalapeño Hollandaise
Coconut Curried Bok Choy and Oyster Mushrooms
Fried Eggplant and Jasmine Rice Pilaf ⓥ
Chef Added Extras and Sides
Buttered Lump Crabmeat
15
Butter Poached Lobster Tail
30
$

7
Peppered Bacon
(three slices)
Two Rösti Potato Wedges
4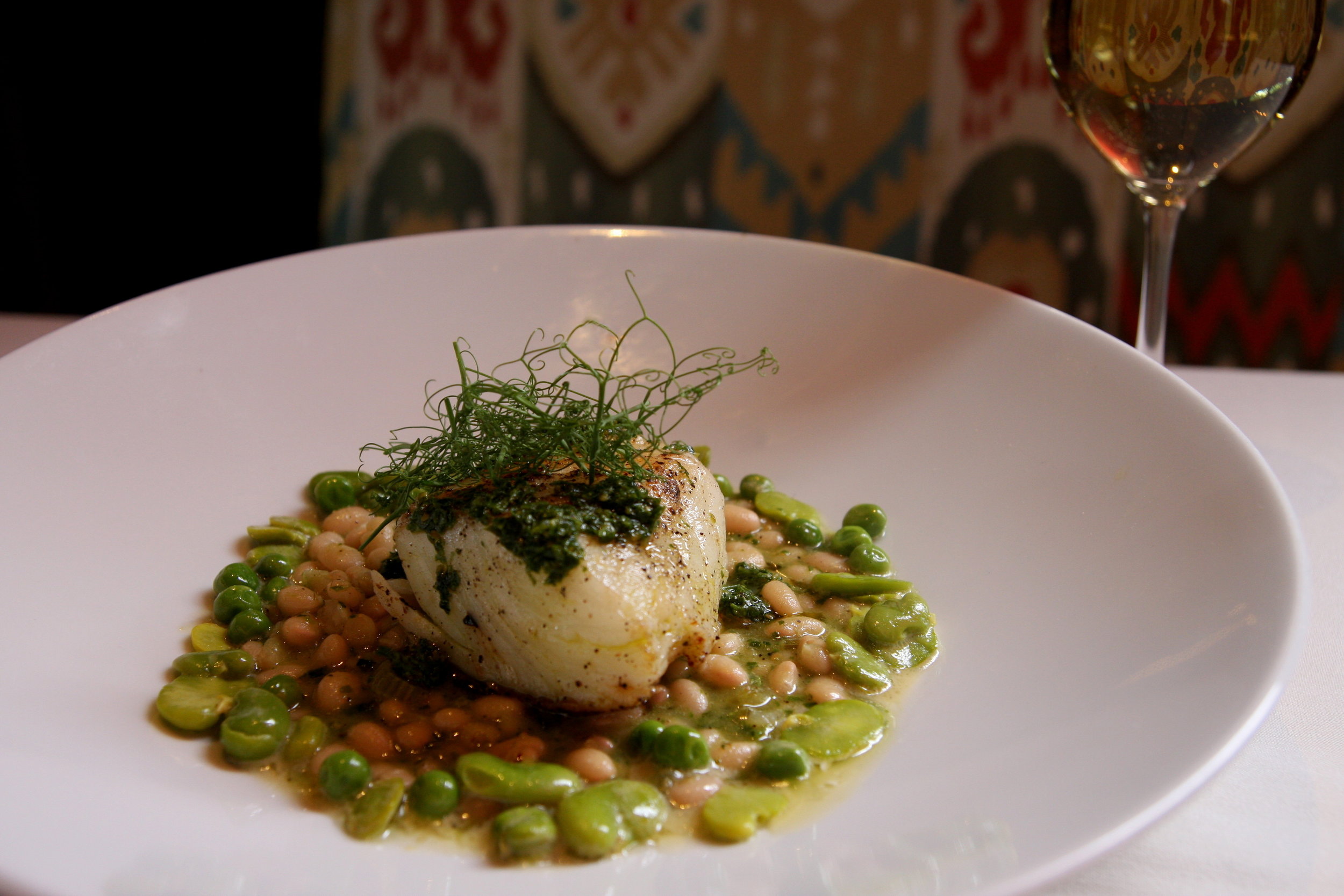 3 courses-smaller portions Limited to groups of 8 or less Soup or Salad Grilled Pork Tenderloin or Daily Fish Petite Sweet
Award Winning Wild Game Burger Smoked Creole Mustard Lodge Made Chips $13 Every Friday At Lunch
We are Wild About Sundays
Open all Day $2 Mimosas until 3:00 Half Price Wines Start at 5